Wireless LAN / Bluetooth M.2 [Intel Wireless-AC 3165 Combo]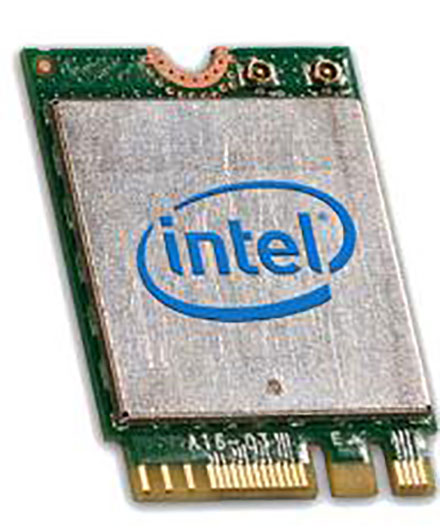 2nd Generation 802.11ac, dual band, 1x1, Wi-Fi + Bluetooth* adapter lets you move at the speed of life with faster speeds (up to 433 Mbps1), higher capacity, and better reliability. Combined with Intel ® Core™ processors, the Intel® Dual Band Wireless-AC 3165 dramatically reshapes your connected experience at work, home or on the go.

Features and Benefits
3x Faster Wi-Fi 1
Less time waiting, more time doing and enjoying. 802.11ac 1x1 Wi-Fi delivers 3x faster speeds than 1x1 802.11n (up to 433 Mbps) for faster downloads, higher quality video streaming, gaming, music and more.

More capacity for more devices
802.11ac 80Mhz channels support 3x more dat [more]



2nd Generation 802.11ac, dual band, 1x1, Wi-Fi + Bluetooth* adapter lets you move at the speed of life with faster speeds (up to 433 Mbps1), higher capacity, and better reliability. Combined with Intel ® Core™ processors, the Intel® Dual Band Wireless-AC 3165 dramatically reshapes your connected experience at work, home or on the go.

Features and Benefits
3x Faster Wi-Fi 1
Less time waiting, more time doing and enjoying. 802.11ac 1x1 Wi-Fi delivers 3x faster speeds than 1x1 802.11n (up to 433 Mbps) for faster downloads, higher quality video streaming, gaming, music and more.

More capacity for more devices
802.11ac 80Mhz channels support 3x more data capacity than 802.11n for supporting more devices streaming more data simultaneously.

Bluetooth 4.2 Smart Ready (Low Energy)
Dual mode Bluetooth 4.2® connects to the newest low energy Bluetooth® products as well as your familiar devices, such as headsets, keyboard, mice and more.

Compatible with previous gen Wi-Fi
802.11ac is backward compatible with 802.11a/b/g/n Wi-Fi devices and hotspots.
Please
login
for creating product ratings.
Your rating:

Please tell us your opinion. Rate the product on a scale from 1 to 5. A value of 5 means the best possible rating. If you want you also can leave a comment.

Your ratings are honored on many ways. Your report will help other customers to better judge about the products. And you can benefit from reports other customers are giving.

In addition we credit 0.50 EUR for each given rating with comment and 1.00 EUR for each given rating with comment (more than 150 characters) on your account. The credit will be substracted automatically on your next order !

We reserve us the right to delete given comments (for example on attempts to give comments with senseless content, copying of other comments, inserting of foreign content, abusing the system for financing orders). "Fair-use-policy" does apply (as of rule of thumb you should give comments for products which you have purchased already. And your credit account only in rare cases will have 2 or even 3 digits). The credit can only be withdrawn by placing an order. It is not possible to get the credit cash or transferred in an other way.
3.98 EUR
incl. 19% VAT, plus
shipping
In Stock (430 pcs)
Description
Data sheets and downloads
Customer ratings
Related products